Emergency Preparedness Apps
Posted on January 22nd, 2015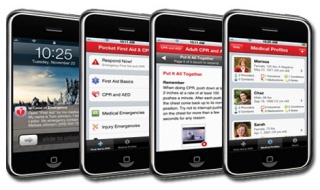 Emergency Preparedness — There's an app for that!
Beyond the world of cat videos (which are awesome) and pictures of other people's food, mobile apps are serving a higher purpose. They are becoming increasingly useful in emergency preparedness. Just think of your smartphone as a tiny library that can keep important health documents and first aid procedures at your fingertips, or guide you to fuel or keep you up-to-date on utility outages.
You're probably thinking, "Wait, sometimes during emergencies, cell service is one of the first things to go down." Some apps will work without cellular service, but not all do. A good way to check is to download the app and then put your phone in airplane mode to see what content stays on the phone and which features require Internet connectivity.
With that in mind, here are a just a few of the free apps that are worth making room for:
Pocket First Aid & CPR
The American Heart Association's Pocket First Aid & CPR app is filled with instructions on how to manage various emergency situations, including choking, burns, CPR, seizures, diabetic emergencies, and more. A first aid checklist makes sure you have what you need in the event of an emergency. There's also an emergency contacts screen that allows one-click dialing to reach your doctor and other essential services.
ICE Standard
At Ready Shelby, we encourage everyone to keep copies of important records prepped for your Go Bag. It's also an excellent idea to have the info in digital form as a back up. Enter ICE Standard, an app developed by About the Kids Foundation. Ice Standard is an emergency card app that lists an individual's complete medical history, emergency contacts, insurance details, blood type, and more. It also features a color–coding system that helps first responders quickly prioritize and respond to serious medical conditions. Red level would be things like severe allergies and heart conditions, while yellow level would indicate whether a person is on any medications and green would indicate no special complications.
Lantern Live
Lantern Live, a new app from the U.S. Department of Energy, helps consumers quickly find and share critical information about nearby gas stations and power outages during energy emergencies. Lantern Live allows users to:
· Report whether local gas stations are in service;
· Find fuel;
· Look up local utility power outage maps; and
· Access useful disaster tips.
The DOE is planning for future versions of the app to allow crowdsourcing of info on the status of gas stations through the use of designated social media hashtags.
In addition to apps like these, it's worth searching Google Play or the Apple App Store for emergency preparedness apps that are specific to your region so that you get relevant alerts.

Lastly, don't forget that mobile devices need power to run. Purchase an extra phone charger for your Go Bag, preferably one with an attachment that will also work in a car.